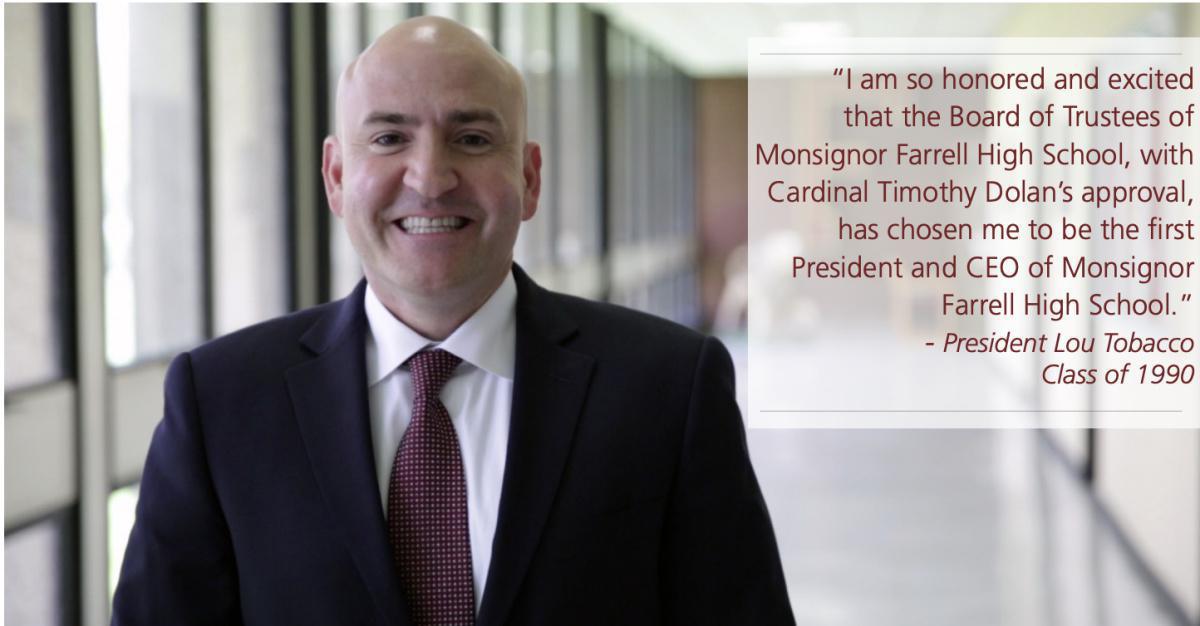 The Monsignor Farrell High School Board of Trustees announced that alumnus Lou Tobacco has been named President and CEO of Monsignor Farrell High School.
The announcement was made on Wednesday, May 22, 2019 by Monsignor Thomas J. Bergin, chairman of the board of trustees following an extensive search and interview process.
"I think Lou epitomizes everything that Farrell stands for," said Monsignor Bergin, who served as Farrell's principal from 1983 - 1992. "He is a man of faith, a Vir Fidelis - a faithful man, a solid family man, and just the kind of person that we are interested in being the leader of Farrell."
"I am grateful to the Board of Trustees of Monsignor Farrell High School for nominating Lou Tobacco as the first president of the school," -Cardinal Dolan.
"As an alumnus, Lou exemplifies what we hope our students become: good men who make a difference in the community because of a firm commitment to our Faith. I expect that Lou will do great things to continue the Farrell tradition."
Lou joins Larry Musanti, whom the board named principal earlier this year, to complete the school's leadership team.
Prior to being named CEO and president, Lou served as the associate executive director of community and government affairs for Staten Island University Hospital, Northwell Health. He has also held the titles of senior director of external affairs, as well as director of surgical business development at the hospital.
City and State Magazine named Lou as one of the Top 100 Staten Island Power Players of 2018 and 2019, as well as one of the Top 25 Most Influential Staten Islanders of 2017.
Lou is also a former New York State Assemblyman, having been elected to three consecutive terms from 2007 - 2012. Representing the 62nd New York State Assembly legislative district (Staten Island), Lou served with distinction as the ranking member on the Health Committee. He was also appointed to the powerful Committee on Ways and Means, as well as committees on Higher Education, Codes, Transportation, Cities, Corporations, Authorities, Commissions and numerous subcommittees.
"I am so honored and excited that the Board of Trustees of Monsignor Farrell High School, with Cardinal Timothy Dolan's approval, has chosen me to be the first President and CEO of Monsignor Farrell High School."

-President Lou Tobacco Class of 1990
"I remember Lou as a freshman," recalls Farrell Principal Larry Musanti. "He was president of his homeroom class, then he evolved into president of the student council. Now look how far he has come. If he goes at this job with the same energy that he did when he was in high school, he is going to be a terrific president," adding, "I think we are going to make a great team."
Lou will officially begin his tenure as Farrell's first president and CEO on June 17, 2019. The board has tapped him to provide visionary leadership, to enhance the success of its Catholic mission and educational organization, and to ensure the continued viability of its financial and enrollment management.