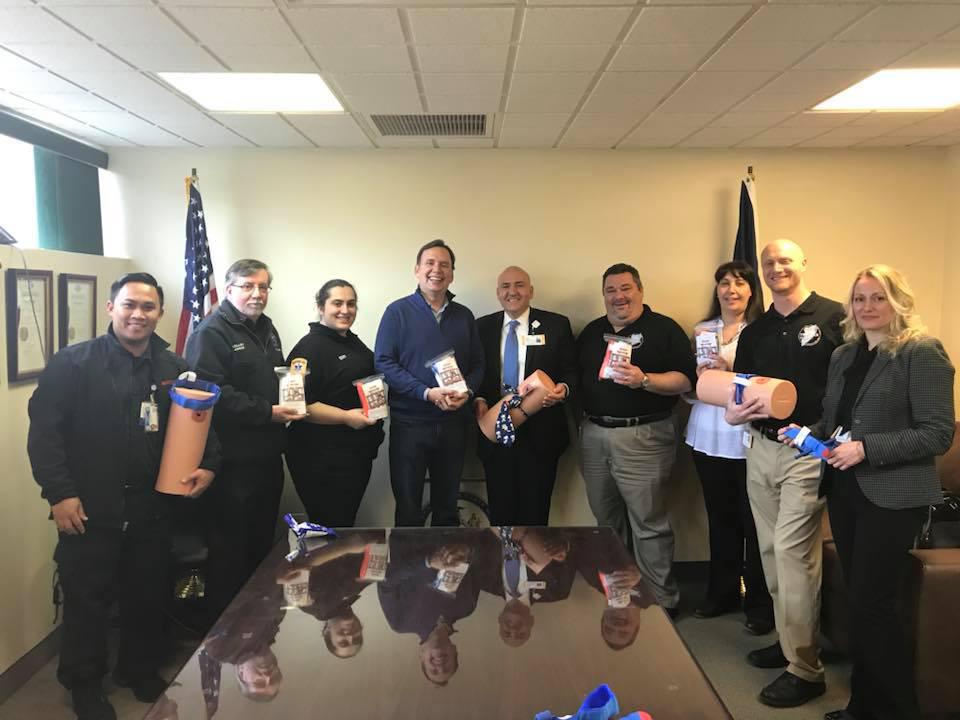 Today, April 10th, Assemblyman Michael Cusick (D-Mid-Island), alongside Staten Island University Hospital, hosted a Stop the Bleed Training at Assemblyman Cusick's District Office, located at 1911 Richmond Ave, SI, NY 10314. Launched in October of 2015 by the White House, Stop the Bleed is a national awareness campaign and a call to action. Stop the Bleed is intended to cultivate grassroots efforts that encourage bystanders to become trained, equipped, and empowered to help in a bleeding emergency before professional help arrives.
The Assemblyman and his staff were trained to identify wounds, in regards to location and depth of a wound, and how to use a Tourniquet to minimize bleeding on a victim until the paramedics arrive. Attendees were then given the opportunity to gain hands-on training on how to patch a wound with gauze and how to correctly place a Tourniquet above an injury, depending on the location of the body. At the completion of the 1 and half hour training, attendees were supplied with Bleeding Control Kits and a certificate of completion from the American College of Surgeons, Committee on Trauma.
NYS Assemblyman Michael Cusick said, "In the wake of recent tragedies that have occurred across the country, trainings such as this are needed to provide citizens with the tools to help prevent deaths caused by mass bleeding. If citizens have basic training in Bleeding Control principles, they can not only provide immediate aid to the victim, while waiting for a first-responder to arrive, but can potentially save a life. Thank you to Staten Island University Hospital for allowing me and my staff to participate in this training."
Lou Tobacco, Associate Executive Director Government Affairs at the Staten Island University Hospital said, "Staten Island University Hospital is grateful to Assemblyman Cusick and his staff for taking advantage of this opportunity to participate in this Stop the Bleed training. It is essential that we provide our local elected officials and their staff the opportunity to gain knowledge of how they can be of better service to their constituents."
If your organization is interested in receiving this training, please contact Christopher Sorrentino, at Staten Island University Hospital, at 718-226-3142 or visit https://www.stopthebleedday.org/.