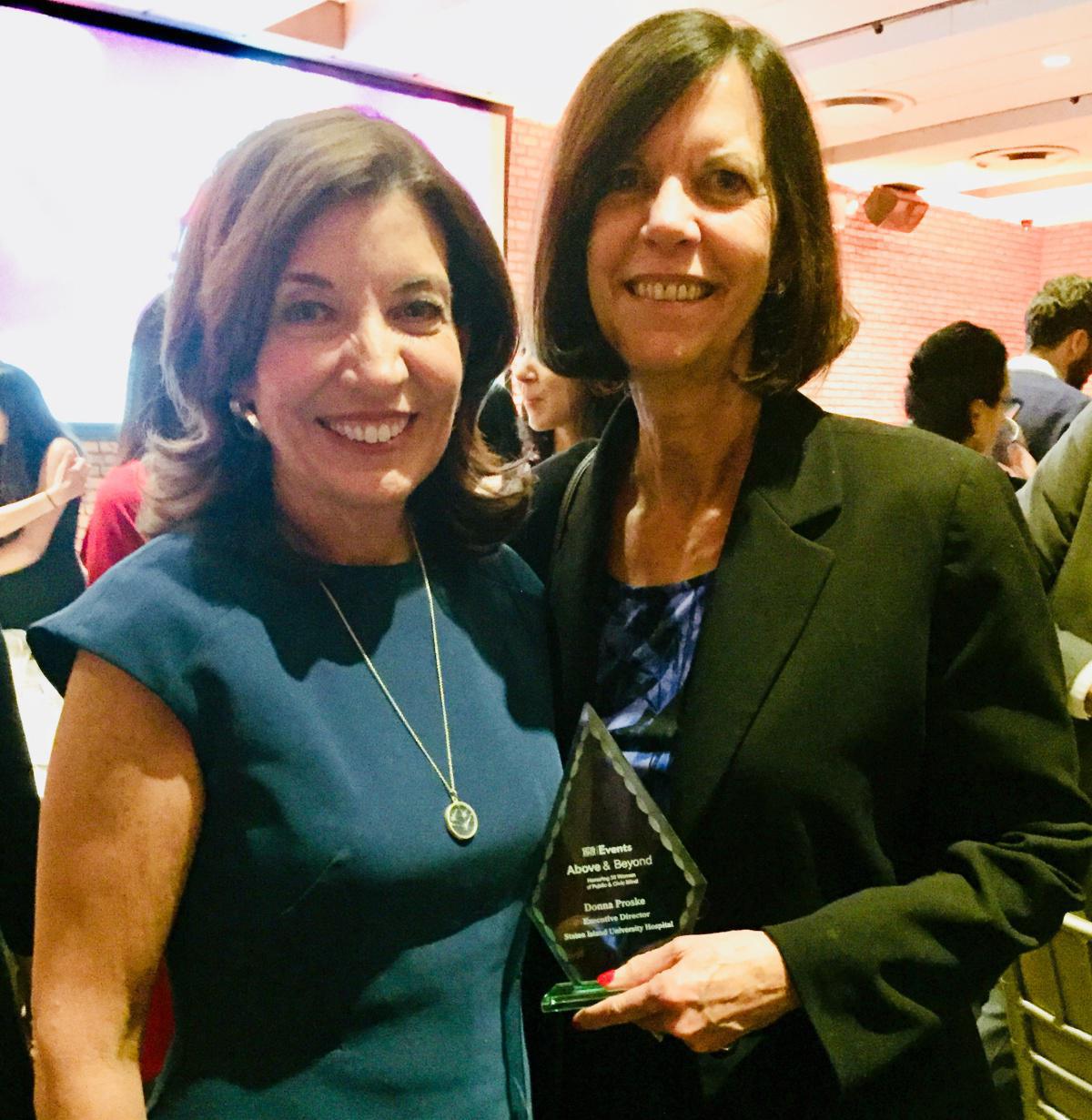 Donna Proske, SIUH's executive director was honored alongside New York State Lieutenant Governor Kathy Hochul and 28 other woman recipients from across the State as the top 30 Woman.
SIUH's trailblazer, Donna Proske awarded for Above and Beyond service by City and State
For more than 30 years, Donna Proske, MS, RN, has been a trailblazer at Staten Island University Hospital (SIUH), beginning her career at the bedside and rising through the ranks to the board room to serve as the organization's first female executive director in 2013.
Her commitment to the health and well-being of Staten Islanders was lauded at City and State's 7th annual Above & Beyond Awards, which honored a diverse selection of women who take a lead role in the public and civic life of New York.
Ms. Proske played a major role in establishing The Jerome L. Finkelstein, MD, Regional Burn Center in 1998 and SIUH's cardiac surgery program in 2001. She was also integral to opening the Elizabeth A. Connelly Emergency and Trauma Center, the Regina M. McGinn, MD, Education Center, the Florina Rusi-Marke Comprehensive Breast Center at SIUH North and the ECHO Pediatric Emergency Room at SIUH South.
Starting as a nurse, Ms. Proske moved on to hold numerous positions, including chief nurse executive, chief operating officer, executive vice president, prior to becoming executive director.
"It's a humbling recognition, but it's not about one single person," Ms. Proske explained. "This award symbolizes all of the dedicated professionals I've had the privilege to work alongside of who truly go 'Above and Beyond,' she added.
The honorees were selected across six categories including government, labor, health, education, law & lobbying, and real estate.
The selection criteria was based on the following standards:
• Honoree has a positive influence on the community where they live or work
• Honoree has a sustained record of accomplishments and contributions to the industry
• Honoree has demonstrated a commitment to the highest ethical standards
• Honoree has shown a dedication to break barriers and open doors for other women
According to their website, City & State is the premier media organization dedicated to covering New York's local and state politics and policy. The organization's in-depth, non-partisan coverage serves New York's leaders every day as a trusted guide to the issues impacting New York by offering round-the-clock coverage through our award-winning commentary and analysis, weekly publications, daily e-briefs, events, podcast interviews and more.
For more information on the Above and Beyond Award, visit: https://cityandstateny.com/