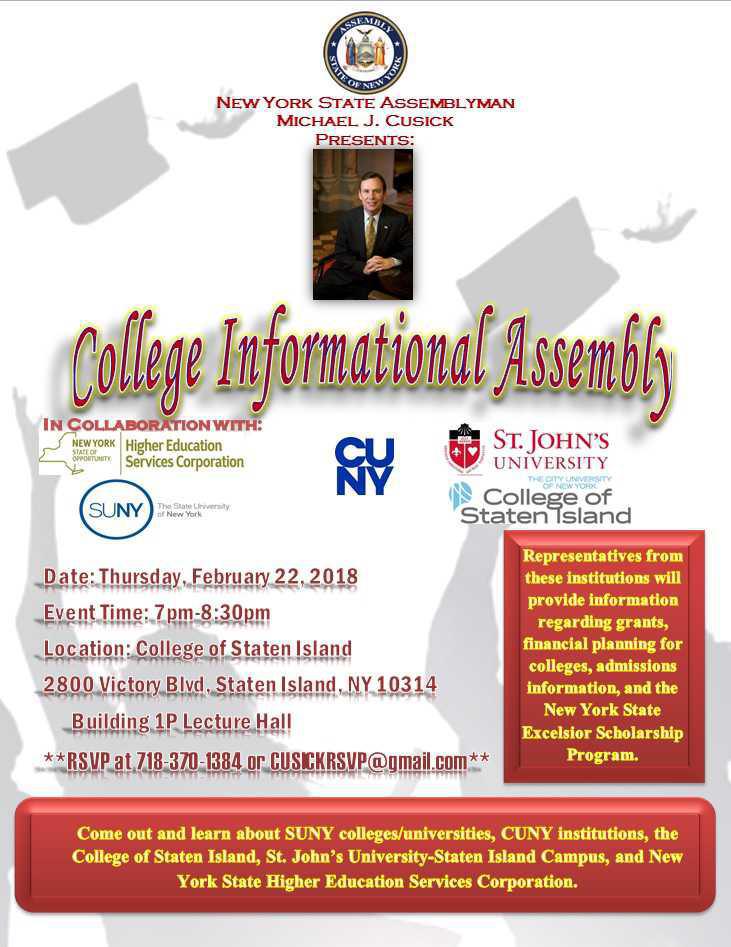 On Thursday, February 22nd, Assemblyman Michael Cusick (D-63rd Assembly District) will host a College Informational Assembly. This event will take place at the College of Staten Island, Building 1P Lecture Hall, between the hours of 7pm-8:30pm. The event will serve as a resource for parents and high school students to receive information regarding CUNY colleges, SUNY colleges/universities, financial planning for college, admissions information, grants, scholarship, etc. Representatives from CUNY central, SUNY central, the New York State Higher Education Services Corporation, the College of Staten Island, and St. John's University-Staten Island campus will be present at the event to answer any and all questions in regards to pursuing a higher education.
"This event will provide high school students and parents the opportunity to hear and speak with representatives from our public and private institutions to determine their path to a higher education. Also, students and parents can receive a more in-depth understanding of the New York State Excelsior Scholarship and determine whether or not they're eligible to receive funds towards their education", said Assemblyman Michael Cusick. "With the cost of college rising, some students and families may be deterred from applying because they believe they do not have the funds to pay for it. This event shows that our institutions are invested in informing our younger generation of the financial opportunities they can take advantage of and push them to reach for their goals."
For more information regarding the event and to RSVP, please call Assemblyman Cusick's office at 718-370-1384 or e-mail cusickrsvp@gmail.com.
Where: College of Staten Island-CUNY 2800 Victory Blvd, Building 1P Lecture Hall
Staten Island, NY 10314 When: Thursday, February 22nd
7pm-8:30pm