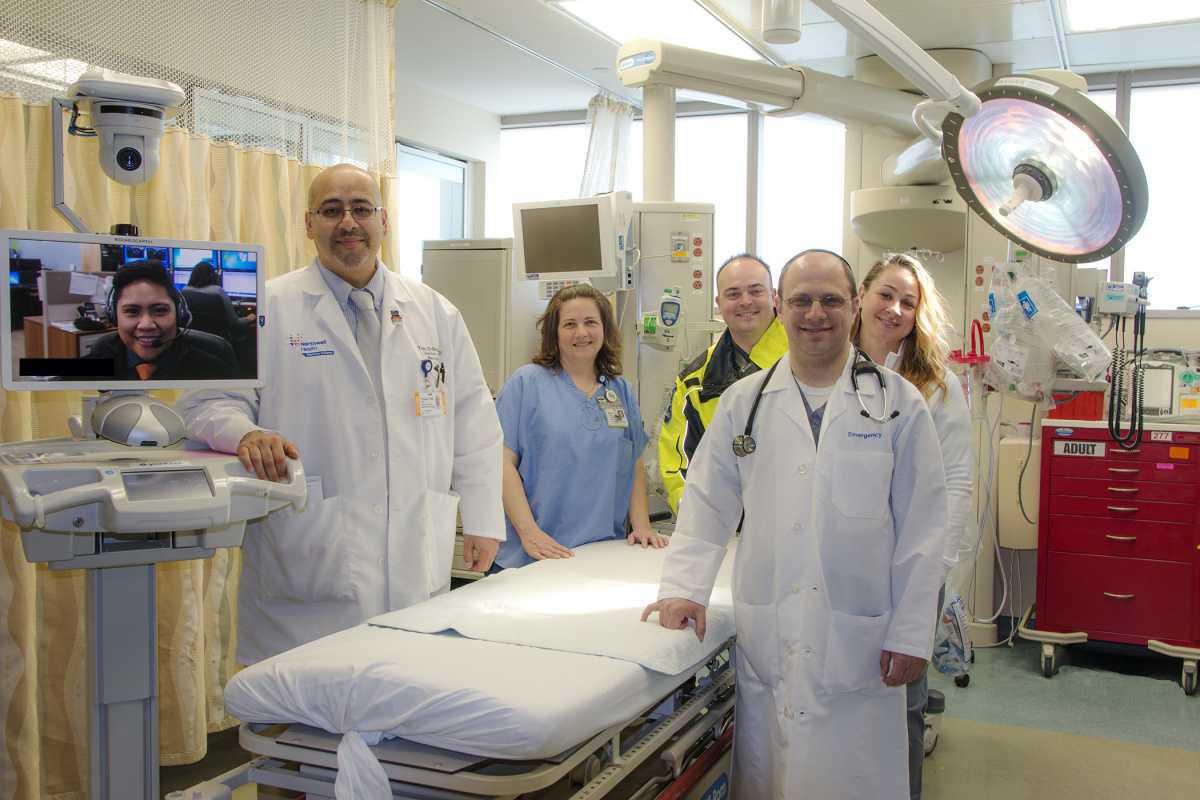 Staten Island University Hospital earns prestigious stroke care award from the American Heart Association and American Stroke Association.
STATEN ISLAND, NY – Staten Island University Hospital (SIUH), a member of Northwell Health, received the Gold Plus Quality award for stroke care from the American Heart Association/ American Stroke Association (AHA/ASA). Announced at the 2018 International Stroke Conference, SIUH's stroke team recognition comes after a calendar year for expansion of acute stroke services on Staten Island.
Because time lost is brain lost, the hospital streamlined services in 2017 to close the time window between diagnosis and treatment of stroke. This move earned the South Site the designation of being a New York State stroke center.
With an additional roll out of four telestroke consoles that same year, neurologists are now able to remotely diagnose at the bedside from virtually anywhere and administer clot-busting medication, tissue plasminogen activator (tPA) and other emergency stroke procedures.
"Operating at high level readiness is imperative in treating stroke patients," said Yasir El-Sherif, MD, director of Stroke Services at SIUH Northwell Health. "We continue to improve and advance stroke care, staying ahead of the majority of the country in order to give Staten Islanders the best care for stroke."
By receiving designated stroke status at its South Site, the hospital increased the response area to the Island's South Shore, one of the fastest growing regions in New York. Dr. El-Sherif said in 2017 that the facility treated nine times the patient volume than the previous year administering tPA to 18 patients who would normally have traveled to the North Site, farther away.
Dr. El-Sherif credits the multidisciplinary team of physicians, nurses, administration and Emergency Medical Services for the recognition.
According to the Centers for Disease Control and Prevention (CDC), stroke kills about 140,000 Americans each year—that's 1 out of every 20 deaths; with someone in the United States having a stroke every 40 seconds. Every four minutes, someone dies of stroke.
The Gold Plus Quality Awards, Get with the Guidelines® recognizes high performance of 24 consecutive months or more in treating patients in the critical three hour window, timely diagnosis, antithrombotic therapy at admission and discharge, smoking cessation, and prescription of anticoagulation and cholesterol lowering medications.
For more information on AHA/ASA Get with the Guidelines®, visit: www.heart.org.
# # #
About Northwell Health
Northwell Health is New York State's largest health care provider and private employer, with 23 hospitals, more than 600 outpatient facilities and nearly 15,000 affiliated physicians. We care for over two million people annually in the New York metro area and beyond, thanks to philanthropic support from our communities. Our 66,000 employees – 15,000-plus nurses and 4,000 employed doctors, including members of Northwell Health Physician Partners – are working to change health care for the better. We're making breakthroughs in medicine at the Feinstein Institute for Medical Research. We're training the next generation of medical professionals at the visionary Donald and Barbara Zucker School of Medicine at Hofstra/Northwell and the Hofstra Northwell School of Graduate Nursing and Physician Assistant Studies. For information on our more than 100 medical specialties, visit Northwell.edu.