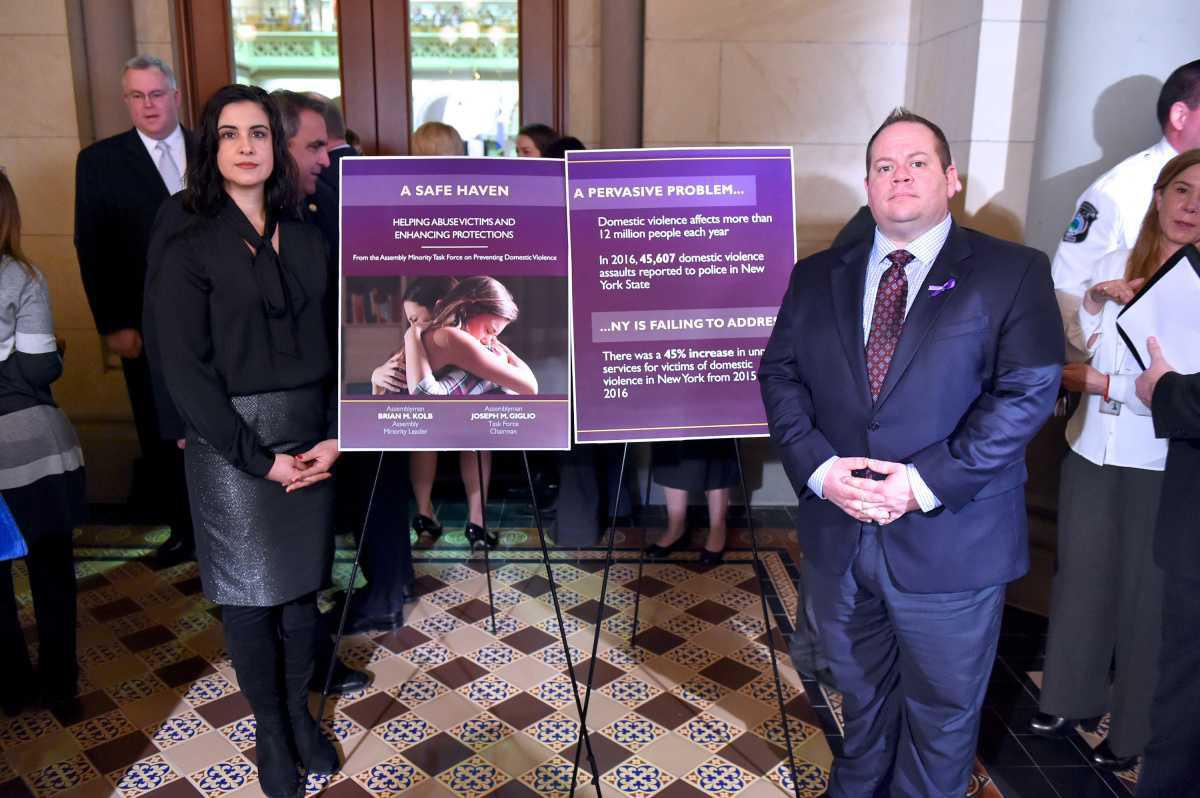 Assemblyman Ron Castorina (R,C,I,Ref-South Shore) and Assemblywoman Nicole Malliotakis (R,C,I-Brooklyn/Staten Island) today joined members of the Assembly Minority Conference to present a task force report targeting domestic abuse prevention. This report details multiple statewide forums that gave communities a chance to speak about abuse prevention and ways to help those who have been abused. Forum attendees included legislators, abuse victims, members of law enforcement and others interested pursuing domestic abuse prevention.
"Today marks a turning point in our fight to combat the danger facing victims of domestic violence across New York State," said Castorina. "I am proud to stand beside those in our community working diligently to bring justice to the victims of domestic violence and to those working to shed light on the pervasiveness of this issue. Our task force has reached out to victims of domestic violence and their families and friends, and together we are working toward a solution that starts with those in desperate need of help. We have a responsibility as legislators and as New Yorkers to do whatever it takes, and I will continue to fight until this crisis is resolved."
The Assembly Minority Conference's report is called, "A Safe Haven: Helping Abuse Victims and Enhancing Protections."
Main recommendations from the report include:
· Declaring domestic violence a statewide public health crisis;
· Providing funding to cover the housing needs of those seeking shelter from their abusers;
· Arranging for reimbursement for each person these shelters assist with the aim to maintain a high degree of individualized care and assistance;
· Creating a state-funded training system to promote coordination between law enforcement, prosecutors and administrators with the goal of providing seamless assistance to victims and greater understanding of their personal situation;
· Arranging funds to help negate the cost of living expenses victims suffer while seeking help to distance themselves from their abuser; and
· Creating a new law making domestic violence in the presence of a child a much more severe offense.
"Today's presentation highlighted numerous critical proposals about the problems of domestic abuse," said Malliotakis. "Domestic abuse is a horrific and heartbreaking pattern that occurs all too often in our society. Our Conference is leading the way to tackle it with our proposed solutions. The report presented by our task force offered comprehensive solutions that would change the role of domestic abuse courts, assist victims and help prevent abusive situations. If the Legislature adopts the plan presented by the Assembly Minority Task Force on Preventing Domestic Violence, it will help victims escape a life of abuse and even save lives."
According to the New York State Division of Criminal Justice Services (DCJS), 28,131 intimate partner assaults were reported to police agencies outside of New York City in 2016. Statistics from the New York City Mayor's Office revealed that police reported 17,476 intimate partner assaults during that same period in New York City alone. With these troubling rates of abuse, efforts to eliminate domestic abuse should continue to be ramped up statewide.