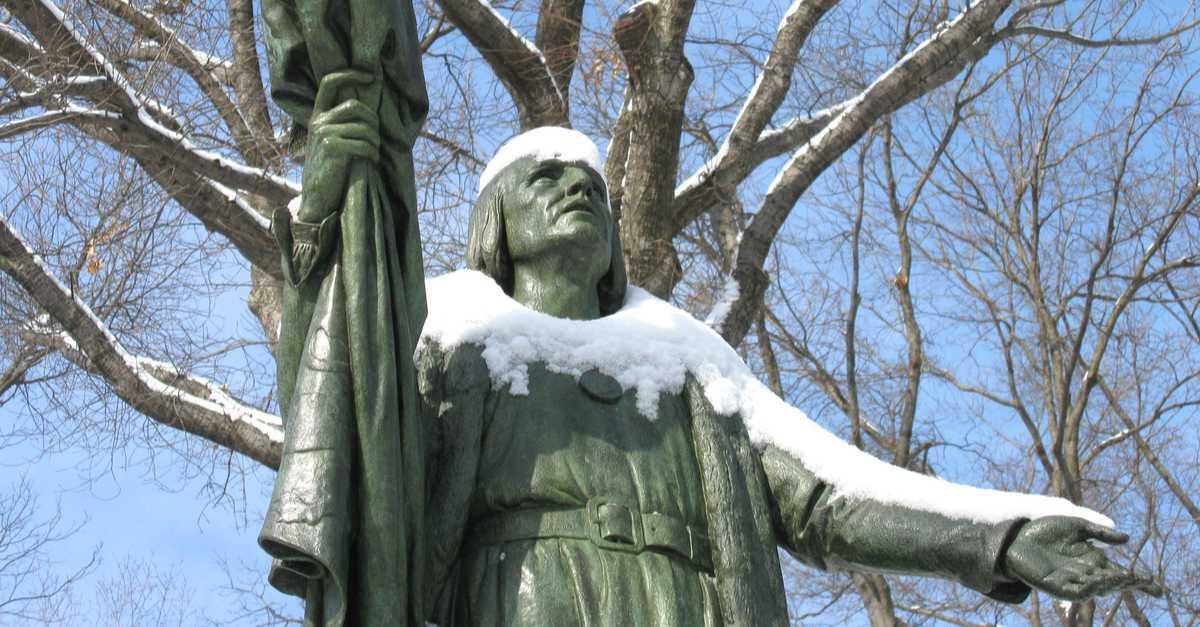 DONOVAN TESTIMONY TO MONUMENT COMMISSION: THIS ENTIRE OPERATION IS AN EXERCISE IN POLITICAL CORRECTNESS RUN AMOK
Donovan defends Columbus statue, blasts scrubbing of historical figures
Congressman Dan Donovan (NY-11) today submitted public testimony to the Mayoral Advisory Commission on City Art, Monuments, and Markers as the commission met on Staten Island. He blasted the exercise as setting a dangerous precedent by judging centuries-old historical figures "to avoid triggering every conceivable sensitivity."
Donovan's testimony said, in part, "The Christopher Columbus statue has stood in Manhattan for more than 100 years. Our city's statues and monuments are important pieces of our shared history and culture. Removing them won't right wrongs that happened decades or centuries ago, but sanitizing history will certainly inflame conflicts and set a dangerous precedent."
In August, Donovan argued that the Christopher Columbus statue should remain in Manhattan, but if "a radical group bent on sanitizing history doesn't want the statue at Columbus Circle anymore, Staten Island will gladly accept it."
Donovan's full testimony is below.
PUBLIC TESTIMONY BEFORE THE MAYORAL ADVISORY COMMISSION ON CITY ART, MONUMENTS, AND MARKERS
CONGRESSMAN DANIEL M. DONOVAN, JR. (NY-11)
November 28, 2017
Members of the Commission, thank you for visiting Staten Island today to accept public comments on our city's monuments and markers. My name is Dan Donovan, and I represent Staten Island and South Brooklyn in the U.S. House of Representatives.
Frankly, this entire operation is an exercise in political correctness run amok. A small group of malcontents have focused media attention on a problem that didn't exist until 6 months ago, and now a panel of experts must determine which acknowledgements of our shared past are too offensive to remain in existence.
Some might see statue removals as a milestone on society's march toward a world free from micro-aggressions, but whitewashing history by scrubbing Columbus and other historical figures from public view does nothing but sow division and conflict.
Christopher Columbus probably wouldn't contend for the Nobel Peace Prize, but whether folks like it or not, his life shaped 500 years of progress. He's a symbol of Italian-American pride, generations of whom built this city.
A sober analysis of our history is absolutely necessary to avoid repeating the mistakes of the past. Classrooms, textbooks, and historical accounts are all appropriate forums for an important conversation about who we are and where we come from.
But a commission judging the lives of people who lived centuries ago to avoid triggering every conceivable sensitivity is absurd.
The Christopher Columbus statue has stood in Manhattan for more than 100 years. Our city's statues and monuments are important pieces of our shared history and culture. Removing them won't right wrongs that happened decades or centuries ago, but sanitizing history will certainly inflame conflicts and set a dangerous precedent.
I encourage this commission to recommend maintaining the monuments and markers that, for better or worse, are part of New York City's past.