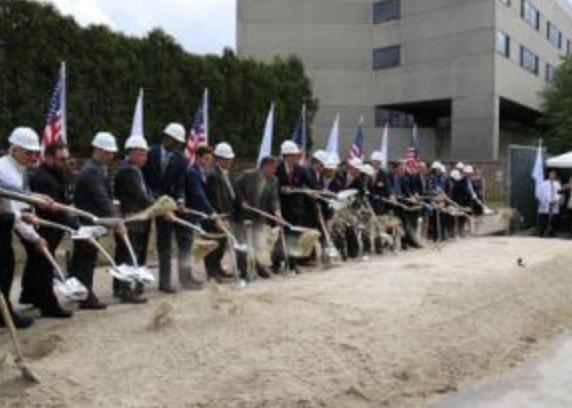 As flood waters impact the Carolina's in the aftermath of Hurricane Florence, Staten Islanders are reminded of Superstorm Sandyand the recovery that followed; a recovery that some Islanders still face.
On September 26, 2018, Staten Island University Hospital broke ground on a new 12,600-square-foot power plant to protect vital infrastructure from dangerous storms and floods.
When Superstorm Sandy made landfall in 2012 it demolished the Island's coast line, moving more than half a mile inland. The storm surge threatened the electrical switch gear which allows the hospital to change power flow from Con-Ed to emergency backup power.
Luckily, the water receded and through the efforts of the dedicated staff, the hospital provided full services throughout the storm and the weeks that followed.
Planning for the future, the new plant is being built at an elevation of 18 feet above Mean Sea Level, noting the FEMA 500 year Flood Elevation for the planned site is 16 feet.
Funding for the North Campus Project and a similar power plant project for the South Campus comes from combined FEMA and HUD grant awards; $28 million appropriation from New York City Mayor Bill de Blasio through the Federal Department of Housing and Urban Development (HUD) Community Development Block Grant Program – Disaster Relief Fund and a $12 million award by New York State Governor Andrew Cuomo under the Federal Emergency Management Agency (FEMA) Hazard Mitigation Grant Program. The balance of the projected $68 million cost for the North and South campus power plant projects will be financed by Northwell Health.
Once completed, the north site project will replace the hospital's original utility plant built in 1977 where the original hospital footprint sits at seven feet above mean sea level. The new facility will assure uninterrupted service in the event of another severe weather event. The project is scheduled to be completed in 2020.
"There's no project more important than this," explained SIUH's Executive Director, Brahim Ardolic, MD. "During [Superstorm] Sandy we were able to keep the hospital fully operational. Because of that team, we were able to care for our community. Thankfully, they also had the electrical power. Staten Island can't afford to have a hospital affected during a time of crisis," he said. "This new plant will support all of our future endeavors."
About Northwell Health
Northwell Health is New York State's largest health care provider and private employer, with 23 hospitals, 665 outpatient facilities and more than 18,500 affiliated physicians. We care for over two million people annually in the New York metro area and beyond, thanks to philanthropic support from our communities. Our 66,000 employees – 16,000-plus nurses and 4,000 employed doctors, including members of Northwell Health Physician Partners – are working to change health care for the better. We're making breakthroughs in medicine at the Feinstein Institute for Medical Research. We're training the next generation of medical professionals at the visionary Donald and Barbara Zucker School of Medicine at Hofstra/Northwell and the Hofstra Northwell School of Graduate Nursing and Physician Assistant Studies. For information on our more than 100 medical specialties, visit Northwell.edu.