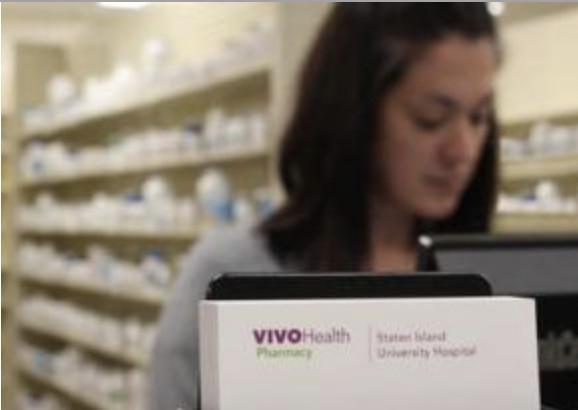 For patients being discharged at Staten Island University Hospital's (SIUH) North Site, getting their medications filled got a whole lot easier. A new Vivo Health Pharmacy opened its doors in the lobby of the hospital this week, allowing patients to have their prescriptions filled before leaving the hospital.
A member of Northwell Health, Vivo Health Pharmacies are located in 10 Northwell hospitals, facilities and ambulatory care centers across the region. These centers will provide timely service and close the gap between medications given at the time of discharge to when a patient returns home from the hospital.
Vivo Health Pharmacy features a 24-hour clinical call center, medication education free home delivery, and works closely with providers to ensure that patients get the appropriate medication they need.
"To have the ability for our patients to be discharged and get their medications immediately is going to change the way we provide care to Staten Islanders," said Brahim Ardolic, MD, executive director at Staten Island University Hospital. "This is a convenience and safety net. They can pick up their medications, ask the pharmacist questions about them, and if they need to speak with their physician, they're still on-site to have those questions answered, saving time and stress."
The pharmaceutical provider will also fill prescriptions for hospital employees, "This is an added bonus for our staff, some of which are doing double shifts and overnights. It's convenient for them and just like our patients, it keeps their medication(s) on track," Dr. Ardolic said.
The pharmacy is open Monday through Friday from 7 a.m. to 7 p.m. and Saturday from 8 a.m. to 4 p.m. and accepts most major insurance plans. To contact the Vivo Health Pharmacy at Staten Island University Hospital, call 718-226-1914.
About Northwell Health
Northwell Health is New York State's largest health care provider and private employer, with 23 hospitals, 665 outpatient facilities and more than 18,500 affiliated physicians. We care for over two million people annually in the New York metro area and beyond, thanks to philanthropic support from our communities. Our 66,000 employees – 16,000-plus nurses and 4,000 employed doctors, including members of Northwell Health Physician Partners – are working to change health care for the better. We're making breakthroughs in medicine at the Feinstein Institute for Medical Research. We're training the next generation of medical professionals at the visionary Donald and Barbara Zucker School of Medicine at Hofstra/Northwell and the Hofstra Northwell School of Graduate Nursing and Physician Assistant Studies. For information on our more than 100 medical specialties, visit Northwell.edu.