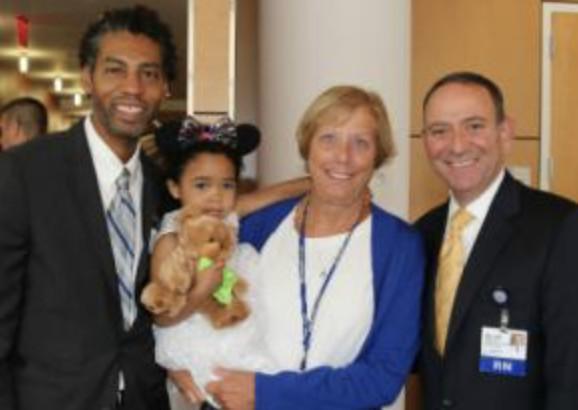 STATEN ISLAND, NY - In July of 1998, then FDNY Commissioner, Thomas Von Essenhelped cut the ribbon on a new regional burn centerat Staten Island University Hospital, bringing this specialized care to Staten Island, Brooklyn, Queens and beyond. A relatively new concept at that time, burn centers delivered intensive care for treating complex burns and wounds.
The new center's pioneer, Jerome L. Finkelstein, MD and his protégé Michael L. Cooper, MD quickly went to work, providing lifesaving care to victims throughout the city; always focused on the belief that a burn can change a life forever.
"With burns, it's not that we want people to just survive," explained the burn center's late founder, Jerome L. Finkelstein, MD in a 2004 interview. "We want them to survive and live a full happy productive life."
After his passing in 2007, Dr. Finkelstein's legacy of compassionate care still continues.
Since its opening, the 10-bed intensive care center has been a beacon of hope for thousands of New Yorkers affected by severe burns from house fires and scold burns, to New York City firefighters injured in the line of duty, and even the rare case of bringing life into the world when the team delivered a baby of burned pregnant patient – saving both mother and baby.
Treating over 600 patients a year, it's one of the busiest centers in the region and is the only burn treatment center in Northwell Health. With health system's air-medical transport, SkyHealth, the burn center can provide care to patients in New York City and Long Island, and as far as Connecticut and Pennsylvania.
On September 17, 2018, Staten Island University Hospital celebrated its milestone year with 200 guest that included Northwell Health leadership, FDNY Chief of Department, James E. Leonard and Captain Thomas Coleman, Rabbi Jacob Spitzer, and special guest, Jaylah Smith.
In September of 2016, one-month-old Jaylah suffered a severe leg burn when an illegal firework exploded in her stroller at a block party in Brooklyn. Two years later, the toddler is healed and took the stage at the anniversary celebration to personally thank the staff.
"This level of care doesn't happen overnight or by itself," said Dr. Michael Cooper, director of the Regional Burn Center. "The hospital's longstanding relationship with the New York City Fire Department has been an integral part of the burn center's success, as well as, all its philanthropic partners and our dedicated clinical staff."
About Northwell Health
Northwell Health is New York State's largest health care provider and private employer, with 23 hospitals, 665 outpatient facilities and more than 18,500 affiliated physicians. We care for over two million people annually in the New York metro area and beyond, thanks to philanthropic support from our communities. Our 66,000 employees – 16,000-plus nurses and 4,000 employed doctors, including members of Northwell Health Physician Partners – are working to change health care for the better. We're making breakthroughs in medicine at the Feinstein Institute for Medical Research. We're training the next generation of medical professionals at the visionary Donald and Barbara Zucker School of Medicine at Hofstra/Northwell and the Hofstra Northwell School of Graduate Nursing and Physician Assistant Studies. For information on our more than 100 medical specialties, visit Northwell.edu.