Shake Shack
15 Richmond Terrace St. George

Shake Shack is a modern day "roadside" burger stand known for its delicious burgers, chicken, hot dogs, frozen custard, beer, wine and more.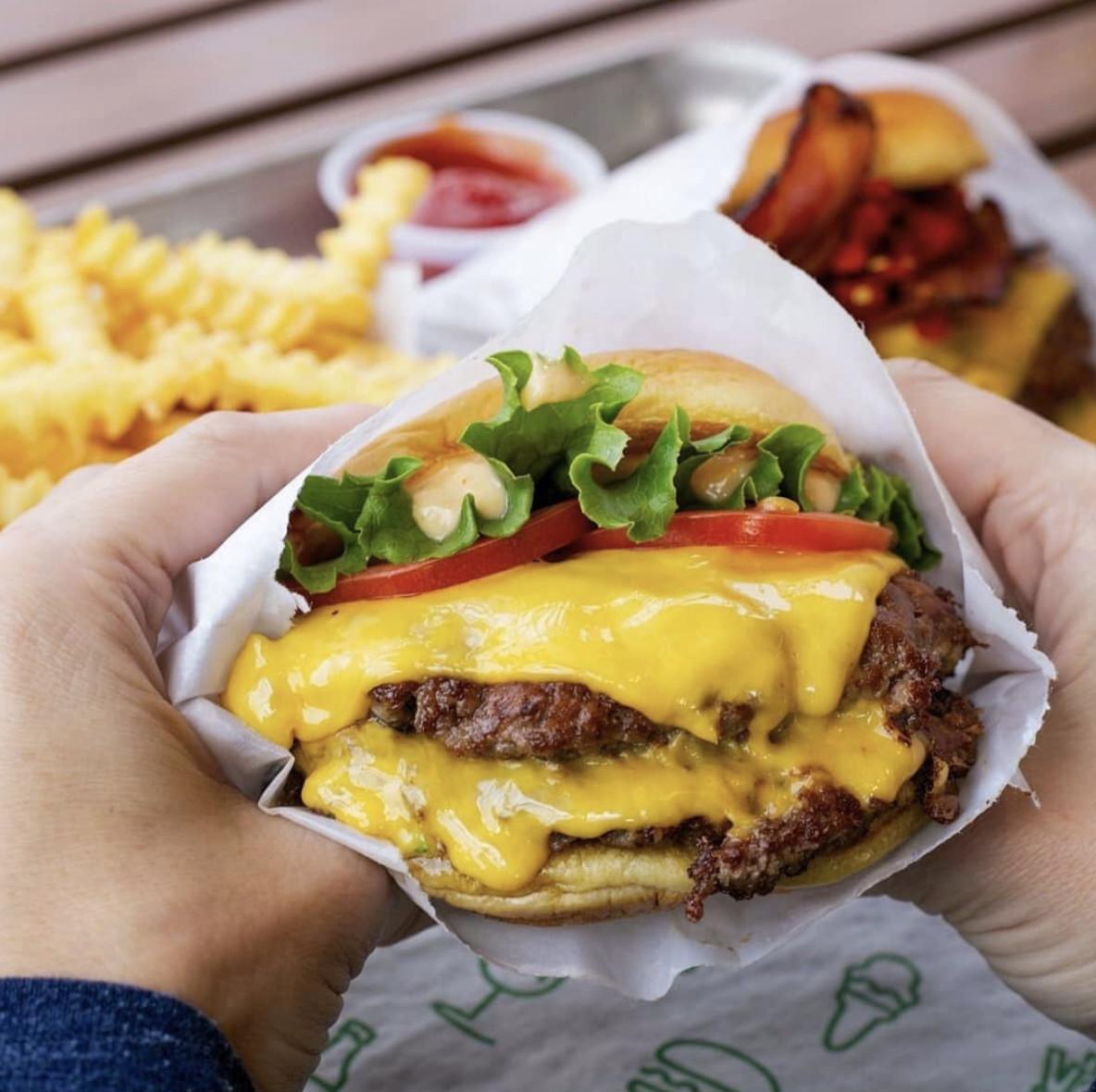 Burgers
100% all-natural Angus beef. No hormones and no antibiotics ever. Our proprietary Shack blend is freshly ground. All burgers are cooked medium unless otherwise requested, served on a non-GMO Martin's Potato Roll. Add lettuce, tomato, pickle or onion – your choice!
ShackBurger®

Single or Double Cheeseburger topped with lettuce, tomato, ShackSauce™.
530 cal/790 cal

Hamburger

Single or Double Choice of lettuce, tomato, pickle or onion. Add cheese or all-natural applewood smoked bacon.
400 cal/590 cal

Shack Stack®

Cheeseburger and a 'Shroom Burger topped with lettuce, tomato, ShackSauce™.
800 cal

SmokeShack®

Single or Double Cheeseburger topped with all-natural applewood smoked bacon, chopped cherry pepper, ShackSauce™.
610 cal/870 cal

'Shroom Burger

Crisp-fried portobello mushroom filled with melted muenster and cheddar cheeses, topped with lettuce, tomato, ShackSauce™.
550 cal
---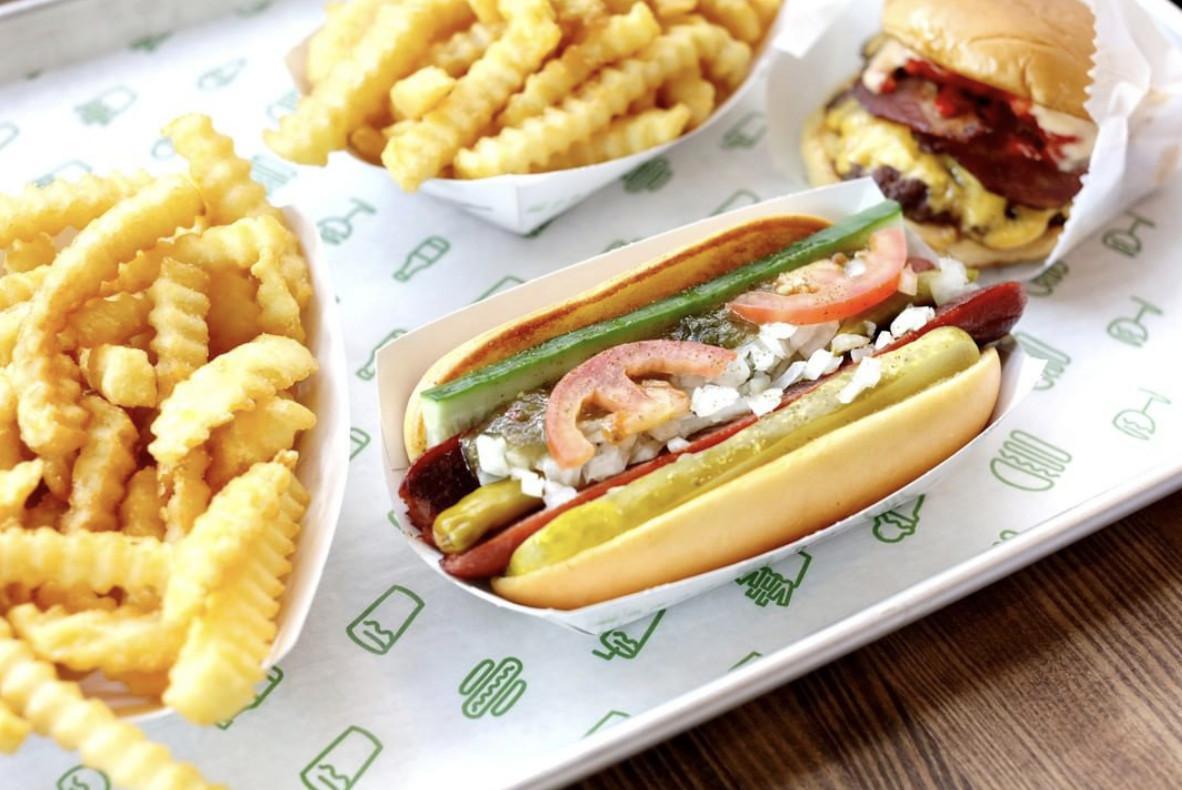 Flat-Top Dogs
With all this burger talk it's easy to forget that Shake Shack began as a humble hot dog cart. These bad boys are not to be missed. Our dogs are 100% all-natural Vienna beef with no hormones and no antibiotics ever, served on a non-GMO Martin's Potato Roll. Split and griddled crisp… perfection!
Shack-cago Dog®

Dragged through the garden with Rick's Picks Shack relish, onion, cucumber, pickle, tomato, sport pepper, celery salt, mustard.
410 cal

Hot Dog

Add Shack cheese sauce.
390 cal

Chicken Dog

Shake Shack chicken, apple and sage sausage (made exclusively for the Shack!).
310 ca
---
Fries
Fries

Crispy, crunchy, salty potato-y goodness!
470 cal

Cheese Fries

Topped with our special blend of cheddar and American cheese sauce. Warning: They're highly addictive.
710 cal
---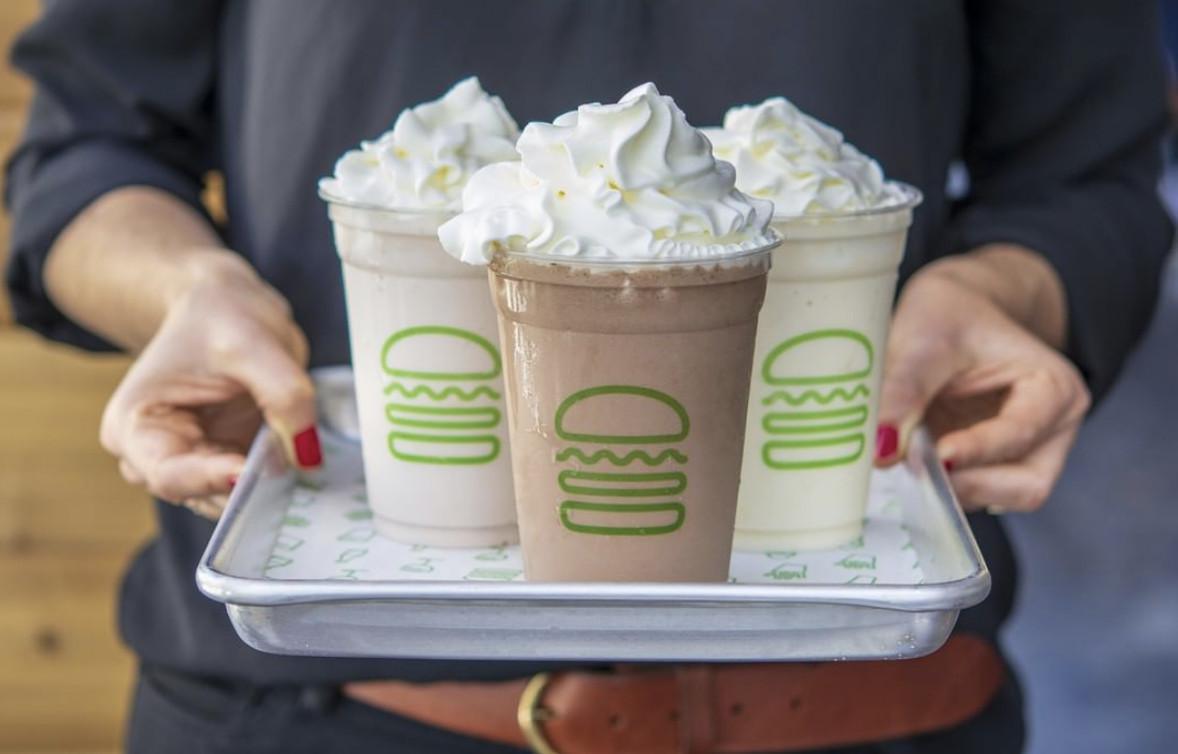 Frozen Custard
Our dense, rich and creamy frozen custard is the real deal – spun fresh daily at the Shack! Our vanilla and chocolate recipes use only real sugar, no corn syrup, and milk from dairy farmers who pledge not to use artificial growth hormones. Our fudge sauce and caramel sauce have zero shelf-life lengtheners. We dare you not to like it.
Shakes

Hand-spun vanilla, chocolate, caramel, black & white, strawberry, peanut butter or coffee Fair Shake. Make it malted, why don't you?
680 cal – 1160 cal

Floats

Root beer, purple cow, creamsicle.
430 cal – 460 cal

Cups & Cones

Handmade frozen custard in vanilla or chocolate. Snag a single dip or double dip!
280 cal – 540 cal

Concretes

Dense frozen custard blended at high speed with mix-ins. You can make your own, or choose from a selection of signature concretes (the crazy-great combinations are specific to each Shack). Available in single or double.
310 cal – 1240 cal
Our concretes are specifically tailored and created for each Shack location. Here's a handful of our guests' favorites!
Shack Attack® Chocolate custard, fudge sauce, chocolate truffle cookie dough and Mast Brothers Shake Shack dark chocolate chunks, topped with chocolate sprinkles 580 cal/1170 cal
Downtown Butter Brown (Battery Park City) Vanilla custard, Hazelnut Brown Butter Streusal and citrus marinated raspberries 390 cal/780 cal
Vice Crispy Treat (Miami Beach) Vanilla custard, marshmallow sauce and crispy crunchies 370 cal/750 cal
Brooklyn Pie Oh My (Brooklyn Shacks) Vanilla custard with slice of Four & Twenty Blackbirds seasonal pie 490 cal/970 cal
Fudge-eddaboutit (Downtown Brooklyn) Chocolate custard, cinnamon fudge sauce and Mast Brothers Shake Shack Dark Chocolate Chunks 470 cal/940 cal
Design Your Own Concrete
Here's where you can let your creative juices flow! Choose vanilla or chocolate frozen custard and your choice of mix-ins. Mix-ins vary by location.
0 cal – 100 cal per Mix-In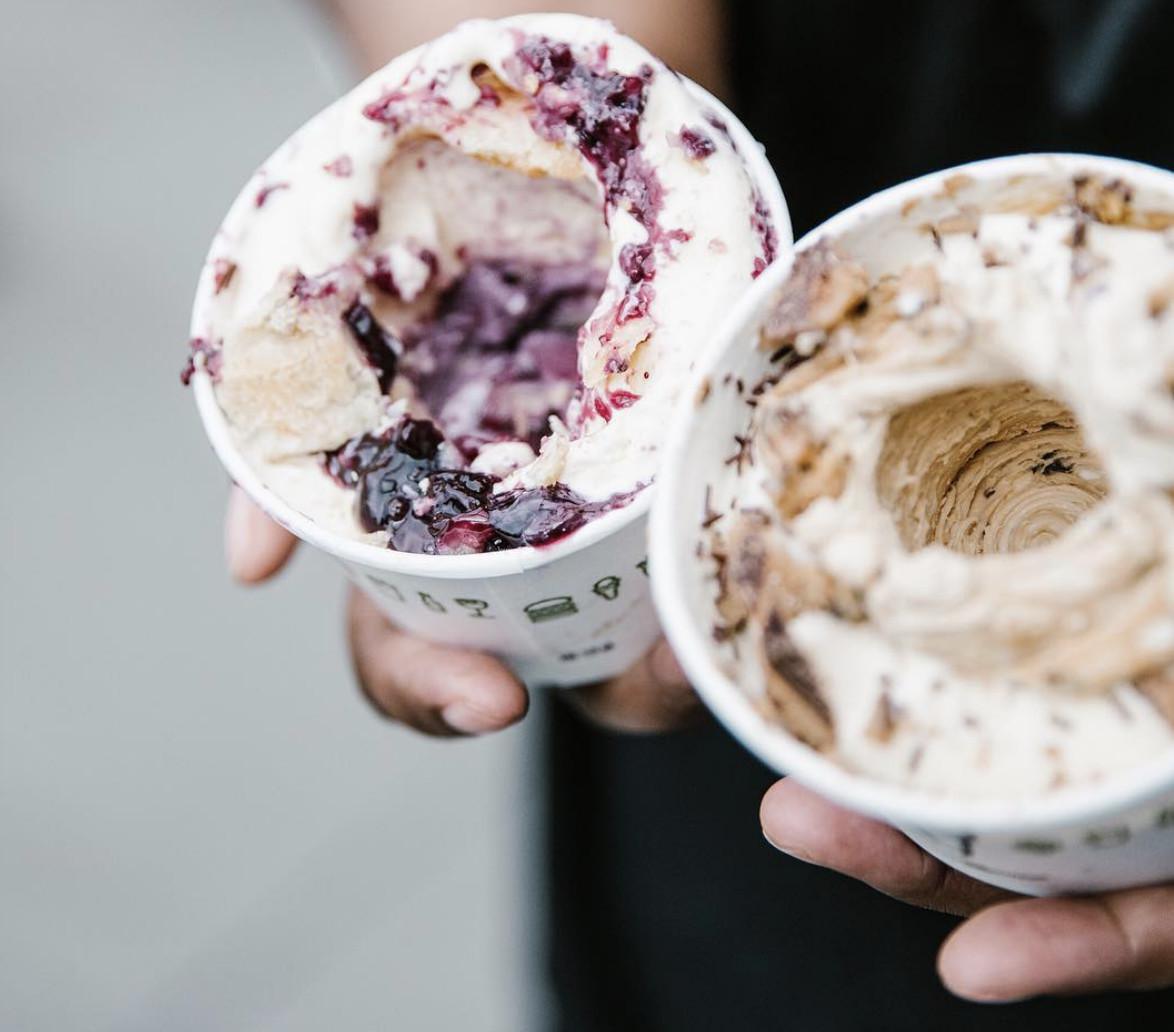 Drinks
Wash down your meal with an ice cold beverage. From our delicious Shack-made lemonade and fresh brewed iced tea, to our wide assortment of beer and wine, we've got your thirst quenched. Cheers!
Shack-made Lemonade

Lemon-y good and sweetened just right with Shack-made simple syrup. Choose original or featured flavor.
160 cal/270 cal

Fresh Brewed Iced Tea

Brewed fresh daily at the Shack.
5 cal/5 cal

Fifty/Fifty™

Half lemonade, half iced tea – fully refreshing.
80 cal/140 cal

Fountain Soda

Coke, Diet Coke, Coke Zero Sugar, Sprite, Fanta Orange, Fanta Grape, Dr Pepper.
0 cal – 270cal

Abita Draft Root Beer

Made in Louisiana at Abita Brewing Co. from clean spring water and Louisiana cane sugar.
165 cal/265 cal

SHACK|2O®

1% of every bottle sold supports the cleanup of water sources. (710ml.)
0 cal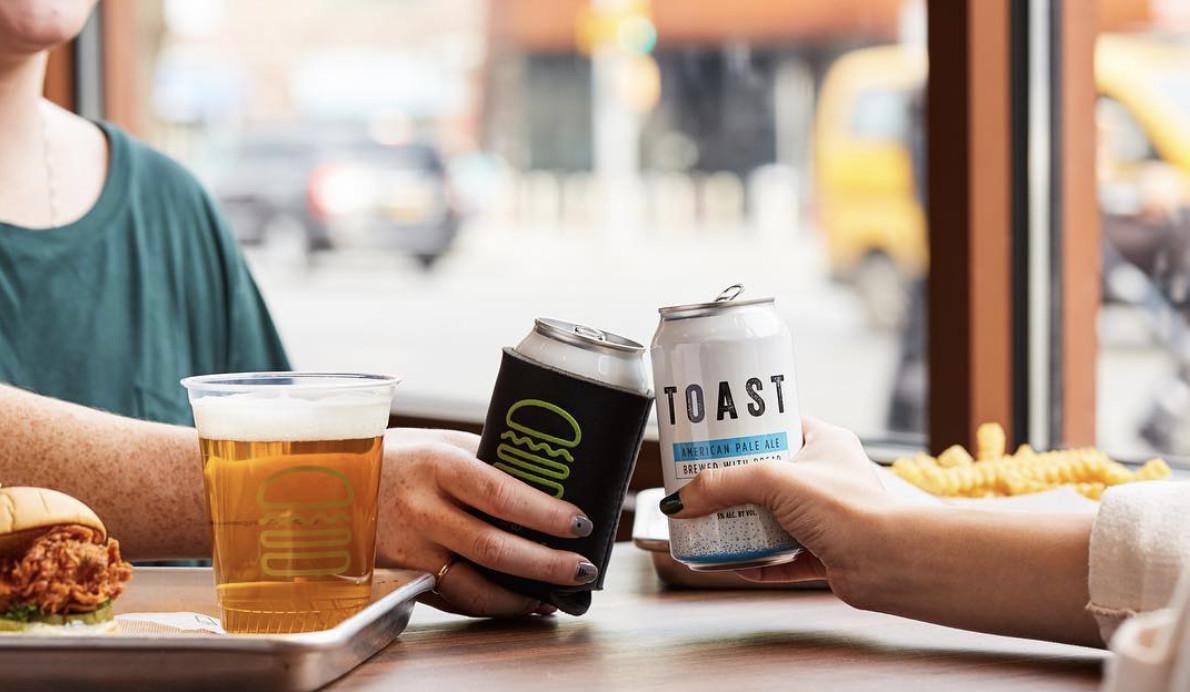 Beer and Wine
Meet ShackMeister® Ale, otherwise known as the ShackBurger's best friend. Our team collaborated with Brooklyn Brewery to create this stellar beer. We think it's a brew surely worthy of our eats with its deep golden color, bright citrus aroma, slight bitterness and bready malt flavor. If wine's more your style, our incredible house red and white (made exclusively for Shake Shack by Gotham Project) are patiently waiting for you to take notice.
Draft

ShackMeister® Ale Made just for us by Brooklyn Brewery.
16 oz. Draft 210 cal/24 oz. Draft 310 cal

Bottle

We thoughtfully select local brews tailored to each location. Check out your neighborhood Shack for the full offering.
White 600 cal/Red 620 cal

Wine

Shack Red® and Shack White® by Gotham Project available by the glass or bottle. We hand-pick a variety of wines to complement the Shack menu.
Glass: White 140 cal/Red 150 cal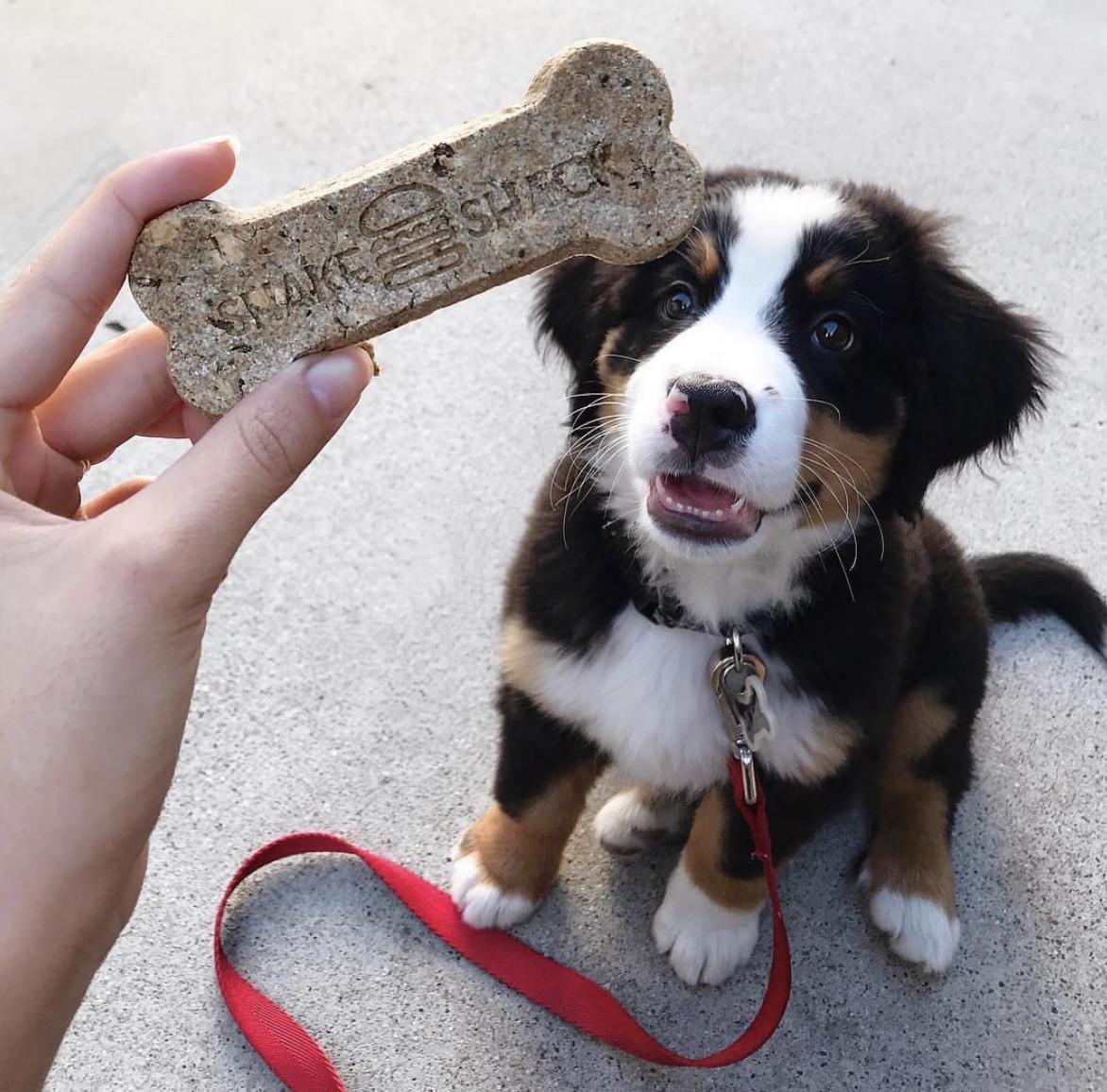 For Dogs
Woof! We'll always have a special place in our hearts for your furry four-legged friend. We were born in a park, after all! Shake Shack's dog menu is available at all Shake Shacks except stadiums, ballparks, airports and international outposts.
Pooch-ini®

ShackBurger® dog biscuits and vanilla custard. Includes dairy, egg and sugar. Not intended for small dogs... just let 'em have a lick or two!

Bag O' Bones

5 ShackBurger® dog biscuits made just for us by NYC's Bocce's Bakery.